Address:
1610 Orange Avenue
Saint Cloud, FL 34769
Phone:
(407) 957-2225
Fax:
(407) 957-0643


| | |
| --- | --- |
| Custom design Industrial Water Filters, Industrial Water Softeners, and Demineralizers. Chemical feed and monitoring equipment are also available from our company. We offer expert consultation and training as to methods of application and control parameters. | |
---
Industrial Water Softeners

Custom design, skid mounted industrial water softeners, with programmable controllers for use in the Industrial and Commercial laundry businesses. Serving clients throughout the US and Canada: Alsco, Unifirst, Aramark, Cintas, National Linen Laundries.

Popular Industrial Water Softener Configurations
** All industrial water softeners custom built to your requirements **
Click Here to request a quote


---
Demineralizers

Custom designed and sized for Food Processing, Citrus Plants and Pharmaceuticals.

---



Purification Filters

Used for the removal of rust in well water, used in association with Irrigation Systems at such locations as time share resorts and hotels. Ref: Westgate Lakes and CFI Resorts, Florida.

Also for the removal of sand and debris in recirculating cooling water towers. Ref: Orlando International Airport, Florida.

---



Chemical Water Treatment Filters

Removal of sulfur dioxide odor in well water systems.

---
Closed Loop Cleaner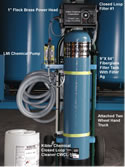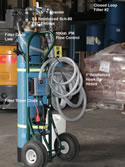 ---



Customized Chemical Treatment Programs

Corrosion and scale control of recirculating water systems such as cooling towers, closed loops, boilers and bacterial control.

---
Industrial Water Softerner and Filter photos available in our Gallery